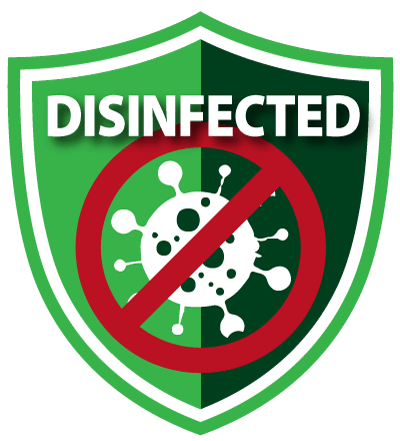 Don't Fight Coronavirus on your own.
Professional  Covid-19 Disinfecting Services
Jersey Steamer Cleaning Services now offers professional infectious disease cleaning services.
Electrostatic Spray Disinfection Services
When it comes to cleaning surfaces and objects, traditional dry and wet dusting tends to be the first method that comes to mind. While these cleaning techniques are tried and true, they do little more than spread filth around, unless the rags used are washed regularly. Dry dusting kicks up resting particles, redistributing them into the air and onto other surfaces. Wet dusting can involve harmful cleaning chemicals and make it hard to reach certain spots or objects. For sensitive places, like clean rooms, R&D labs, healthcare facility cleaning, and schools, there's a more effective method for stripping dirt, dust, and germs from surfaces that require specialized sanitation.
The Benefits of Electrostatic Disinfecting
Electrostatic disinfection is an innovative method that saves time, energy, and costs across the board because it presents a more efficient alternative to traditional cleaning techniques and cleaning solution applications. Below are some of the many benefits of using an electrostatic system.1
Reduces the time it takes to cover and disinfect all surfaces  and hard-to-reach places by 50% compared to conventional  methods
Improves infection control and the spread of viruses such as  influenza, MRSA, HIV, and many others
Applies chemicals in a more efficient, uniform and controlled  manner, eliminating the dangers of overuse and reducing the number of chemicals used and waste produced
Prevents costly financial burdens associated with contagious  healthcare infections
Avoids cross-contamination and the movement of bacteria  from one surface to another
Saves chemical solution costs and those associated with  long-term cleaning efforts
Fogging is for sanitizing all surfaces.
Although this virus is known to live on surfaces longer than in the air. Although there is no such thing as an EPA approved product for soft surfaces like carpet and furniture (mainly because it is hard to test these on soft surfaces). What is recommended is a thorough cleaning of the soft surfaces. Which is what I can provide for you. As an added precaution, I can apply Thymol to your soft coverings. You can see in this video how well this works. We also have a hospital-grade antimicrobial available. Which is effective on both hard and porous surfaces and used in many hospitals nationwide.
No Harmful Chemicals.
I have made the commitment to provide those customers with a 100% natural product that is made of the plant Thyme. Yes, like the spice we use for cooking. Thyme has many benefits and is known to be a natural antimicrobial.
Please feel free to contact me with your questions.
Call Now (732) 775-2503
Jersey Steamer Cleaning Services
1301 Corlies Ave., Suite 7D
Neptune, NJ 07753
https://jerseysteamer.com/professiona…