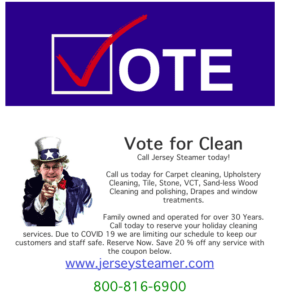 Vote for Clean
Call Jersey Steamer today!
Call us today for Carpet Cleaning, Upholstery Cleaning, Tile, Stone, VCT, Sand-less Wood Cleaning and polishing, Drapes and window treatments.
Family owned and operated for over 30 Years. Call today to reserve your holiday cleaning services. Due to COVID 19 we are limiting our schedule to keep our customers and staff safe. Reserve Now. Save 20 % off any service with the coupon below.
www.jerseysteamer.com
800-816-6900